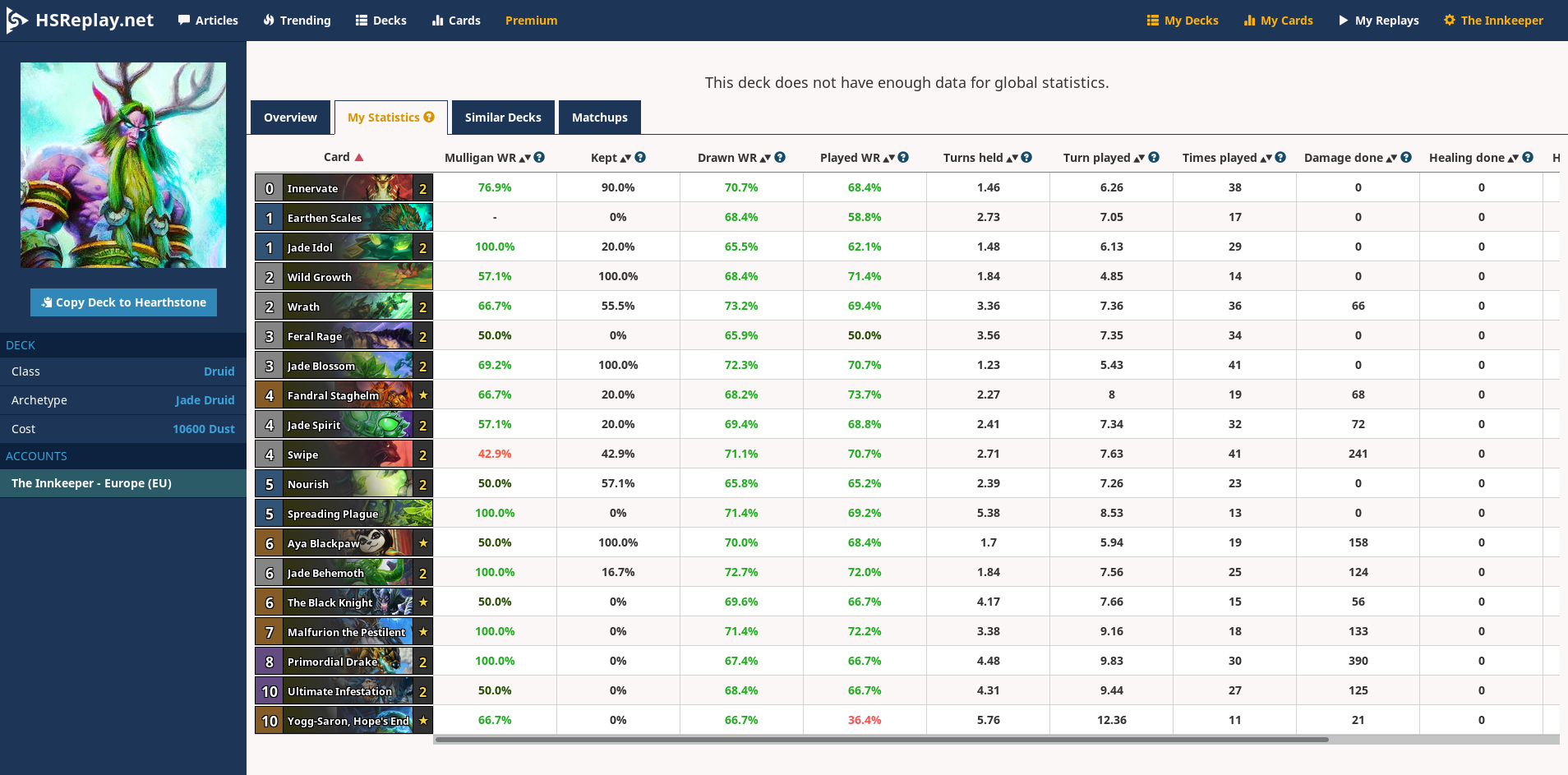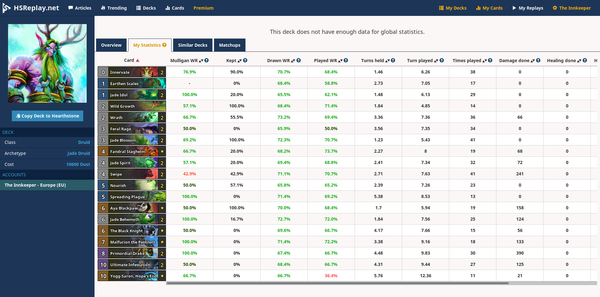 Since we released HSReplay.net Statistics and the My Cards feature, people have been asking us to provide them with a personalized version of our Mulligan Guides. We're excited to announce the immediate availability of two new features for our HearthSim Premium subscribers: My Decks and My Statistics.
While My Decks is an online representation of the decks you've been playing similar to Hearthstone Deck Tracker, My Statistics is something completely new, providing you with your own detailed deck-level card statistics for every single deck you've played. Read on below to learn more about these new features.
---
HearthSim Premium is a monthly subscription enabling loads of cool new features and filters on the site. You get to improve your gameplay and support the continued development of HSReplay.net and Hearthstone Deck Tracker at the same time! Subscribe today to start tracking your own matches. Learn more…
---
My Statistics
It's here: Your very own Mulligan Guide, based on your own performance with a deck. You have all the columns you're used to from our usual deck pages, but we've also added the personal statistics from My Cards.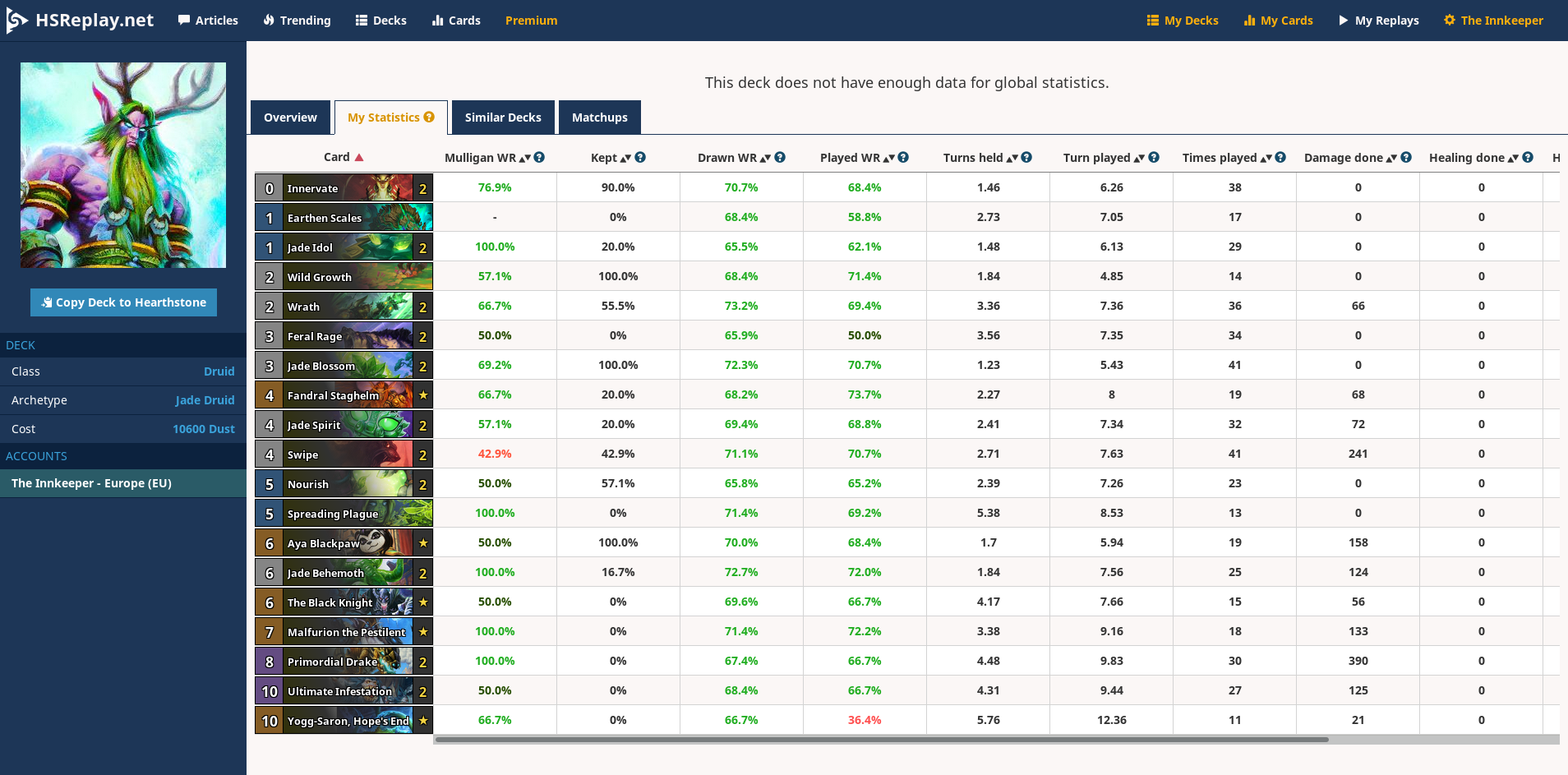 You can see right away whether you're mulligan is what it should be (even if you're the only one playing the deck!), can quickly tab to the global statistics if they're available, see how much damage or healing every card has dealt, and whether The Lich King is just a dead card in your deck (he isn't).
This tab will appear on all decks you play once you subscribe, even if you're the only one playing them!
Update: We've now added the Opponent Selector, so you've got all the features you're used to from the Mulligan Guide!
My Decks
While we continue to offer Hearthstone Deck Tracker as a way to track your deck's statistics, we haven't offered a way to track your deck's performance at a glance on HSReplay.net so far. While you're browsing the site you might want to see some data about a deck you usually play similar to how the "Mulligan Guide" button in Hearthstone Deck Tracker instantly opens detailed statistics for the deck you've been playing.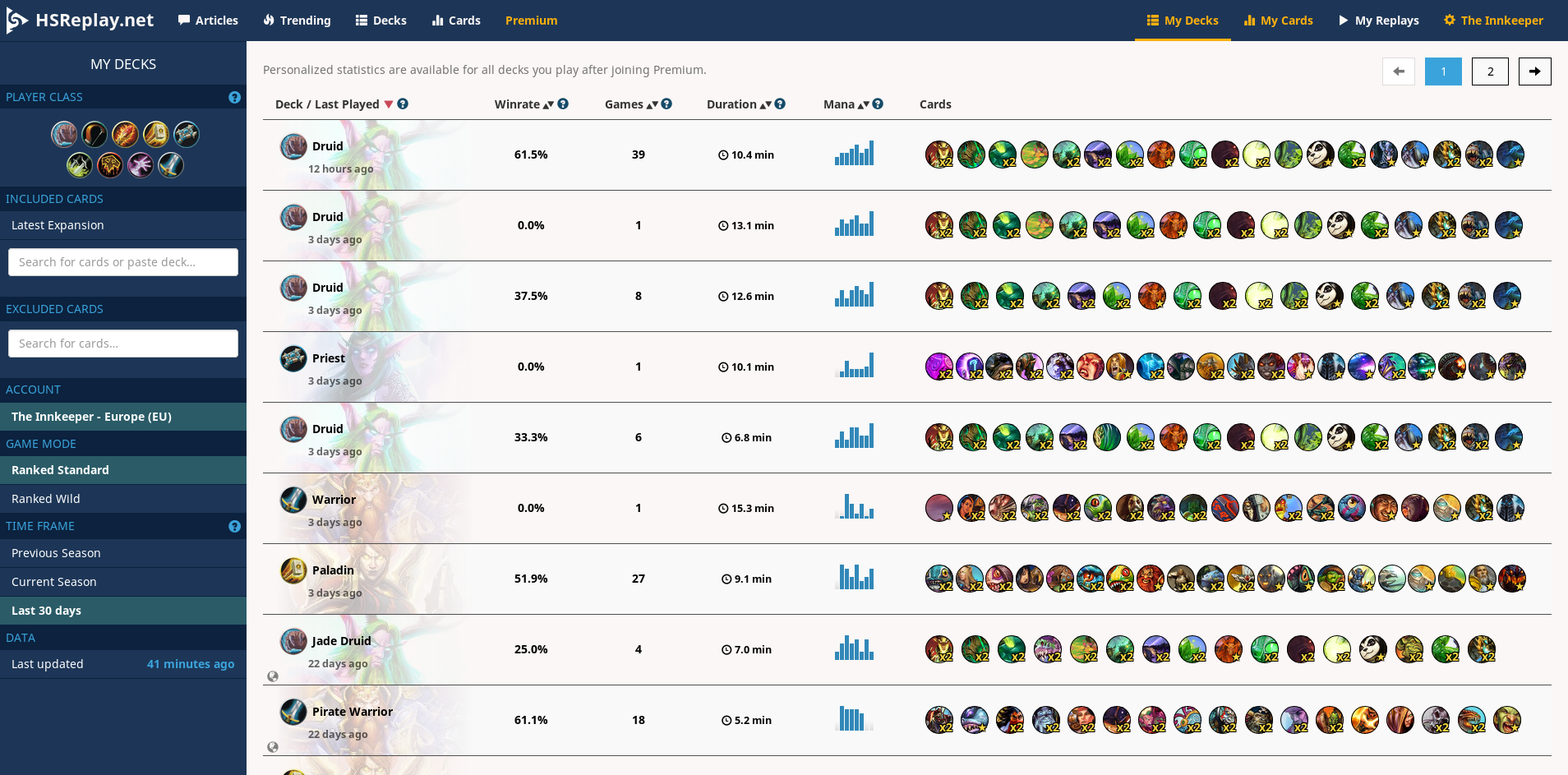 Therefore we've added My Decks: Your own decks page, where you can see all the decks you've recently been playing at a glance. You can filter you just like you know from the Decks page and use them to quickly view My Statistics for each deck.
Enhanced Personalized Statistics
These new features require us to process replays more thoroughly than we've ever done before. Since we track millions of games earch day, we can only analyze the games uploaded by our premium subscribers at this level of detail.
All these personalized features (including the existing My Cards) will start collecting data for you from the date you subscribe onwards. Existing premium subscribers, that have been subscribed anytime on or between 2017-07-05 and 2017-08-13 have had the last 30 days backfilled.
---
If you have any questions, don't hesitate to leave a comment or contact us. We expect these features to be very useful for players looking to improve their own gameplay, especially while trying out completely new decks!